Hand-printed, self-composition, inspired by The Next Call by H.N. Werkman
* Druksels; Unique printed works, created directly onto paper using a manual press, without the use of a previous negative.
Hendrik Nicolaas Werkman (Leens, Groningen, 1882-1945) was a Dutch printer. In 1923, he began experimenting with materials used in his previous commercial printing press. From this sprang the well-known Druksels, unique printed pieces created with his manual printing press. They are free composition typographic experiments. He mainly used bits of wood, a lesser extent stencil, rollers and ink and eventually lead. These were all materials that were very familiar to him from his previous printing posts.
Werkman's compositions are very reminiscent of the collages of the Dadaist, Kurt Schwitters (1887-1948) and his works Merz, from the word Komerz. These are collages, composed of randomly found pieces of paper used to create abstract compositions.
The works of the international avant-garde also inspired Werkman. He frequently travelled to Amsterdam where he attended exhibitions by Piet Mondriaan (1872-1944), one of the Russian constructivists. In 1922 a presentation of the artists of De Stijl was organized. Werman attended and was inspired by the work of Vilmus Huszar (1884-1960). Huszar's work influenced Werman when he was making woodcuts for the cover of Kunst's Blad Voor magazine, which he also printed. Werkman also knew of and was impacted by the typographic experiments of Theo van Doesburg (1883-1931) and other artists through the magazine De Stijl.
Despite all these influences, Werkman's Druksels worked in semi-abstract ways. Although his works were abstract, they always retained a figurative background. They featured familiar objects that surrounded him daily such as chimneys, pigeons, ships seen sailing past his study, a staircase, the maze of corridors and doors, beams, partitions and so forth.
Source: Hendrik Nicolaas Werkman, printed work 1923-1944, the catalogue of the exhibition was held at the IVAM Art Center in Valencia, from April 28 to June 28, 1998.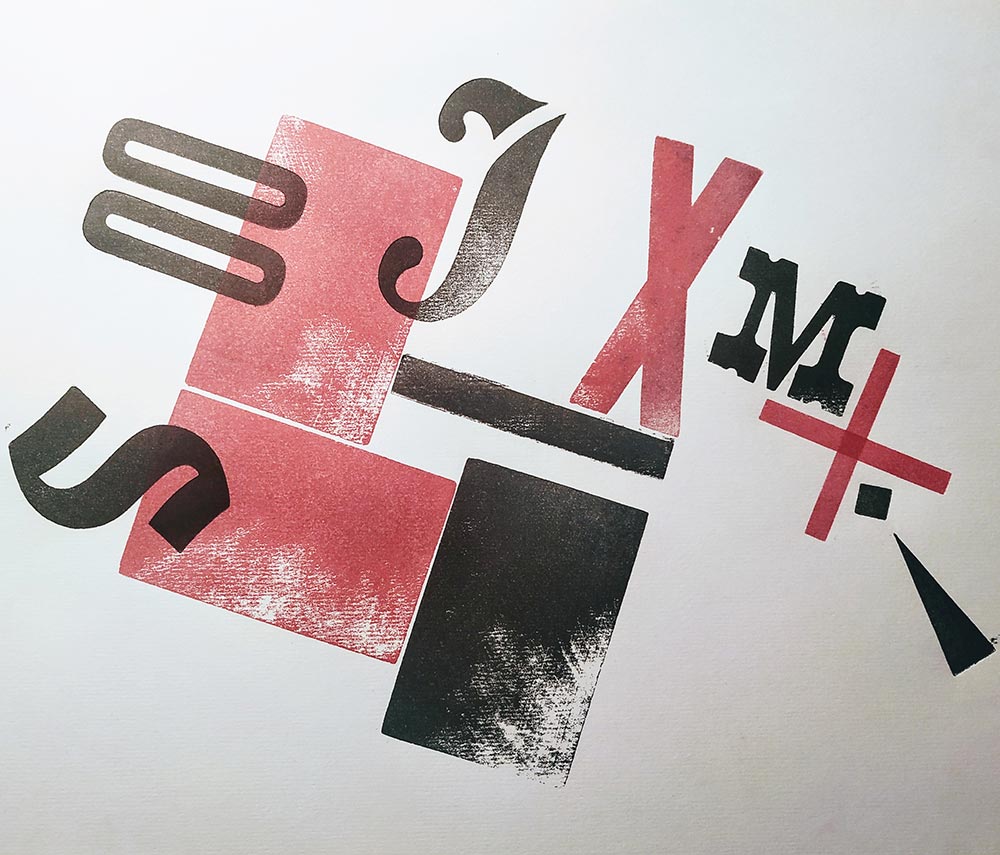 Druksels, own work.
Druksels, own work.
To see more Druksels and Tiksels follow Lettersonwheels

Lettersonwheels

on Instagram.